Roland BN-20 Printer, Empower your t-shirt, poster, sticker, and decal graphics printing business, with easy from the comfort of your own home and laptop. The VersaSTUDIO Roland BN-20 printer /cutter, can print, cut, and create the best high-resolution graphics with it's 1440 dpi printhead resolution while being one of the most economic printing solutions and machine. Easily the most versatile print devices in their class— print and cut on a huge range of vinyl, films, and media, In addition to traditional graphics, you can create heat transfer graphics for jerseys, hoodies, bags and more. Legendary Roland DG machine reliability combines with exceptional image quality and color to give you the solution you need to succeed.
The Roland VersaSTUDIO BN-20 offers a choice of Eco-Sol MAX ink configurations. Four-color (CMYK) is the best choice for standard process color inkjet printing. CMYK+Metallic offers increased versatility and premium value, Metallic Silver can be printed as a spot color, or combined with CMYK to produce hundreds of striking metallic and pearlescent colors. CMYK+White opens the door to applications that require printing on clear or reflective substrates.
Roland Print & Cut Machine
The BN-20 Can not only print at a high resolution of 1440 dpi, but can also cut around the print like no other machine can. This 2-in1 feature is a must have in today's printing requirements.
Car Sticker Maker
Offer your clients the ability to place custom stickers on their cars, trucks or provide sports cars with a custom decals for sports cars
Wall Decor Printing
Impressive high quality printing for home decor and customizations
Glass Labels and Designs
Versatile printing features and abilities that will keep your clients coming back for more
Easily the most versatile print devices in their class— print and cut on a huge range of vinyl, films, and media

In addition to traditional graphics, you can create heat transfer graphics for jerseys, hoodies, bags and more

Legendary Roland DG machine reliability combines with exceptional image quality and color to give you the solution you need to succeed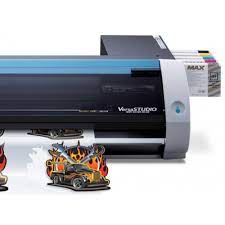 Roland BN-20 Specifications
| Model | FIELD2 | VersaStudio BN-20 Series |
| --- | --- | --- |
| Printing method / Cutting method | | Piezoelectric inkjet / Grit roller feed |
| Acceptable media | Width | 5.9 to 20.3 in. (150 to 515 mm) |
| | Thickness | Printing: Maximum 39 mil (1.0 mm) with liner |
| | | Cutting: Maximum 16 mil (.4 mm) with liner |
| | Roll Weight | Maximum 13.2 lbs (6 kg) |
| | Roll Outer Diamater | Maximum 5.9 in (150 mm) |
| | Core Diamater | 2 in (50.8 mm)or 3 in (76.2 mm) cores |
| Printing/cutting width1 | | Maximum 18.9 in (480 mm) |
| Ink Cartridges | Type & Capacity (BN-20) | Roland ECO-SOL MAX, 220ml |
| | Type & Capacity (BN-20a) | Roland ECO-SOL MAX 2, 220ml |
| | Colors (BN-20) | 5 Color – CMYK + White (Cyan, Magenta, Yellow, Black, and White) 5 Color – CMYK + Metallic (Cyan, Magenta, Yellow, Black and Metallic) |
| | Colors (BN-20 & BN-20a) | 4 Color - CMYK (Cyan, Magenta, Yellow, Black) |
| Printing resolution | | Max 1440 dpi |
| Cutting Blade | Type | Roland CAMM-1 series cutter blade |
| Cutting speed | | 0.4 (10 mm/s) to 5.9 in/s (150 mm/s) |
| Blade force | | 30 to 300gf |
| Software resolution (when cutting) | | 0.000984 in/step (0.025 mm/step) |
| Distance accuracy (when printing)2,3 | | Error of less than ± 0.3 % of distance traveled, or ± 0.3mm (0.012 in), whichever is greater. |
| Distance accuracy (when cutting)2,4 | | Error of less than ± 0.4 % of distance traveled, or ± 0.3mm (0.012 in), whichever is greater. |
| Repetition accuracy (When cutting)2,5 | | ±0.004 in (± 0.1mm) or less |
| Alignment accuracy for printing and cutting2,6 | | ±0.020 in (± 0.5mm) or less |
| Alignment accuracy for printing and cutting when reloading media2,7 | | Error of less than ± 0.5% of distance traveled, or ± 0.012 in (3mm), whichever is greater |
| Print Heater Temperature8 | | Fixed at 95o F (35oC) |
| Connectivity | | USB 2.0 |
| Power-saving function | | Automatic sleep feature / AC 100 to 240V ± 10%, 1.0 A, 50/60 Hz |
| Power Consumption | During Operation | Approx. 90 W |
| | Sleep Mode | Approx. 5.5 W |
| Acoustic Noise Level | During Operation | 62 dB (A) or less |
| | During Standby | 42 dB (A) or less |
| Dimensions/Weight | | 39.7" W x 22.9" D x 11.5" H in. (1009 W x 582 D x 293 H mm), 79.4 lb. (36 kg) |
| Operating Conditions | Power on | Temperature: 68o - 90o F (20 to 32o C), humidity: 35 - 80% RH (non condensing) |
| | Power off | Temperature: 41o - 104o F (5 to 40o C), humidity: 20 - 80% RH (non condensing) |
| Included Items | | Power cord, USB cable, blade, blade holder, downloadable software and manual library— including VersaWorks RIP and User's Manual |
| | | |
| *1 The length of printing or cutting is subject to the limitations of the program. | | |
| *2 Using Roland specified media, loaded correctly, temperature: 25°C (77°F), humidity: 50 %RH, all pinch rollers are used, 25 mm or more for both right and left margins and 35 mm or more front margin, excluding expansion or contraction of the emdia, and all correction and adjustment functions of this machine have been made properly. | | |
| *3 Using Roland specified media, print travel of 1m. | | |
| *4 Using Roland specified media, cut travel of 1m. | | |
| *5 Range for assured repetition accuracy: Length 1,000 mm. | | |
| *6 Provided that media length is under 1,000 mm. Excluding possible shift caused by expansion/contraction of the media and/or by reloading the media. | | |
| *7 Using Roland specified media, data size: 1,000 mm in the media-feed direction, 480 mm in the carriage-movement direction. No lamination. Automatic detection of crop marks at 4 points when media is reloaded. Excludes the effects of skewed movement and of expansion and contraction of the media. | | |
| *8 Warm-up is required after power up. This may require 5 to 20 minutes, depending on the operating environment. The preset temperature may fail to be reached 35°C (95°F) depending on the ambient temperature and media width. | | |
| *9 Roland Software Package includes: Windows driver, OnSupport software, utility software and R-Works design software | | |
*Roland VersaWorks 6 System Requirements*
FIELD2
*Operating system*
Windows® 10 (32/64-bit)
Windows® 8.1 (32/64-bit)
Windows® 7 Professional / Ultimate (32/64-bit)
*CPU*
Intel® Core™2 Duo, 2.0 GHz or faster recommended
*RAM*
2 GB or more recommended
*Video card and monitor*
A resolution of 1,280 x 1,024 or more recommended
*Free hard-disk space*
40 GB or more recommended
*Hard-disk file system*
NTFS format
*Optical drive*
DVD-ROM drive
*Other requirements*
Ethernet or USB port
Internet connection and web browser to use Roland@NET